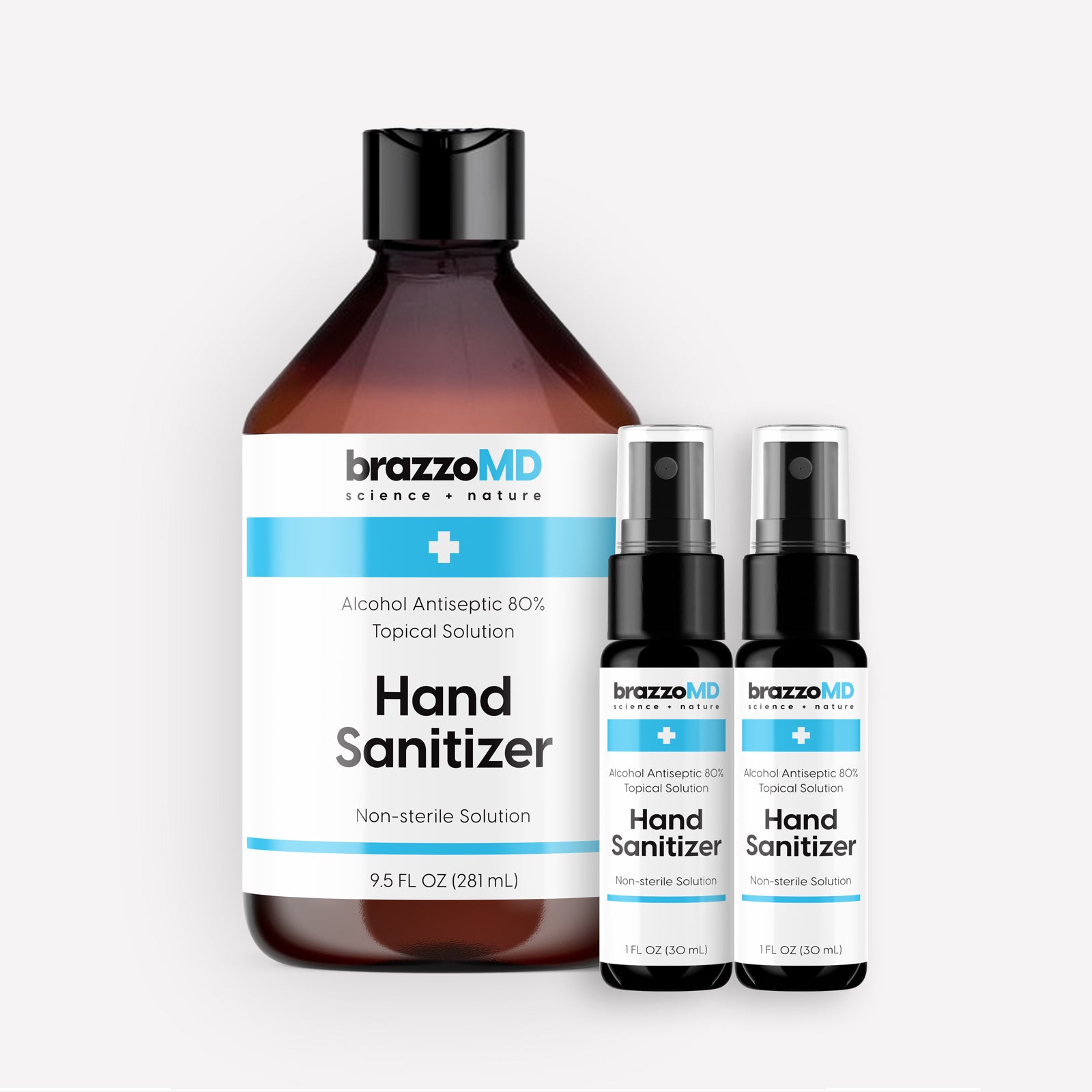 BrazzoMD Hand Sanitizer
BrazzoMD Hand Sanitizer is Made in the USA, at an FDA-approved laboratory. It has 80% alcohol content and will kill 99.9% of germs.

In March 2020, we set out to provide this high quality product due to supply shortages and the difficulties many consumers and essential workers face when buying quality hand sanitizer at this time.
BrazzoMD Hand Sanitizer is less viscous than your typical gel hand sanitizer. It is an instant, soap-free liquid hand cleanser that requires no rinsing off. It kills 99.9% of most common germs within seconds, and it is non-sticky. Our sanitizer dries quickly after use and ensures proper hygiene. Will leave hands clean, without residue. Very convenient, portable, and accessible to be used at anytime or anyplace. Can be used as protection against harmful germs, diseases, and viruses.
Available in two sizes & as a Multi-pack:
1 oz. & 9.5 oz.
The 1 ounce bottle has a spray top — perfect for on-the-go use, and it gives broad coverage. Easy and neat to apply with no dripping or spilling. It is easy to apply to children's hands also.

The 9.5 oz bottle contains the same cleanser, but has a disk top. You can pour a small amount of sanitizer on your hands and rub until dry. Made for home or office use, it can also be used as a refill for the 1 oz. portable bottles. 
Content:
80% alcohol liquid based sanitizer, which is among the highest alcohol concentration available, for maximum efficacy.

Contains no added colors, artificial fragrances, dyes, or chemical additives.

Directions:
Spray/Wet hands thoroughly with sanitizer and rub into skin until dry. Convenient and easy to use. Perfect for frequent use. Use at your home, office or school. Or anywhere else you need to quickly clean your hands. 

No Return Policy:
Please note that due necessary health and safety precautions, all products are final sale. These items are non refundable and non returnable. Shipping & handling is non refundable. Any shipping delays are fully responsible by shipping courier.
Sorry, there are no products in this collection