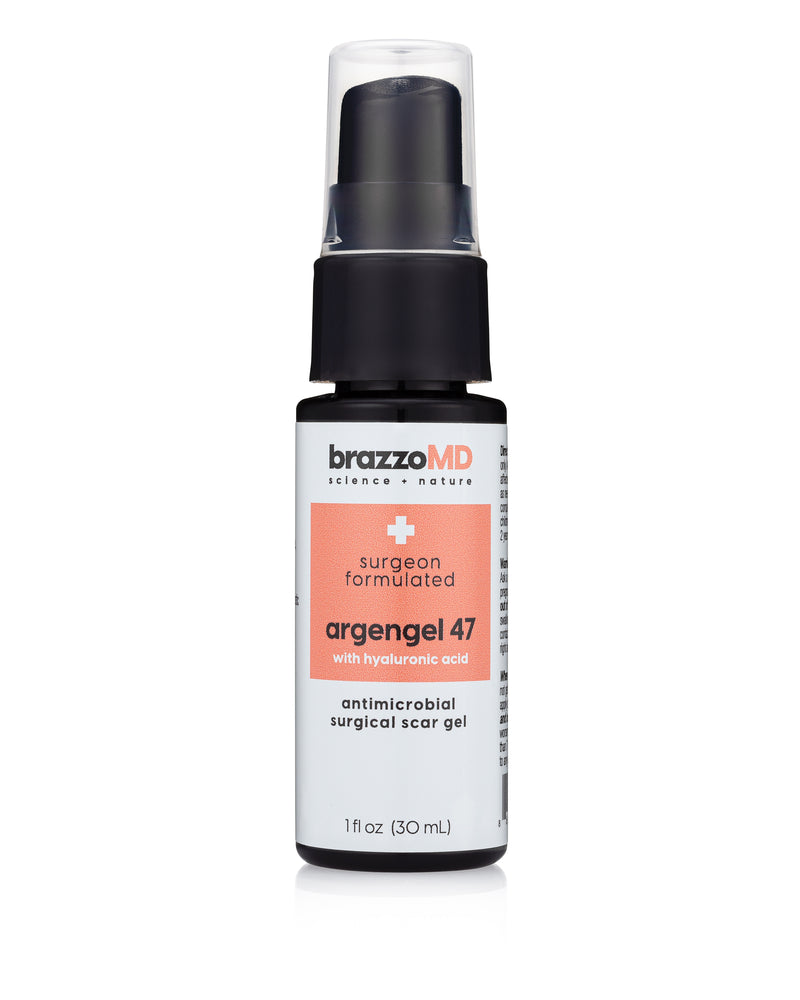 Argengel 47 with Hyaluronic Acid - Antimicrobial Surgical Scar Gel
In stock
Understood for centuries as a powerful antimicrobial, silver nitrate has natural antibiotic properties.  When mixed with elements that minimize scar formation and appearance, there is an additive effect on healing and wound repair. This product was developed in response to patient complaints needing multiple over-the-counter and prescription ointments after surgery.  Argengel has a much lower incidence of contact dermatitis, redness, and itching.  This product reduces discomfort and speeds recovery from nicks and cuts as well as surgical wounds.


Unique PATENTED Formula

Promotes Scar Reduction and Healthy Wound Healing

Natural Antimicrobial Gel  

Does Not Migrate Into the Eye

Hypoallergenic 
Cruelty free

Ingredients: Purified Water, Propanediol, Glycerin, Sorbitol, Diglycerin, Polyglyceryl-2 Laurate, Xanthan Gum, Hyaluronic Acid, Maltodextrin, Allantoin, Silver Nitrate
For external use only, keep out of reach of children, use as directed.  
VIRTUAL PATENT MARKING
This page is intended to serve as notice under 35 U.S.C. § 287(a).   
The following patents apply to one or more of the brazzoMD products:
U.S. Patent Numbers: 11,253,545 & 11,564,941.
If you have any questions about this list, please contact brian@brazzoMD.com.  
Scars
Love the consistency and that's not messy at all.
Amazing!
I had surgery for eye lift and bought this for the recovery. I definitely see a difference in my eyes already! I'm healing so fast. I really love this! It's worth every penny.
Review of Dr. Brazzo's Scar Gel
I love it. I am seeing a difference in the scar each day. No irritating to my skin and I don't worry that the scar is near my eyes. The gel stays put. Thank you.
Great Product
I am very pleased at the performance of this scar gel. I am healing very nicely and I believe this product out performs bacitracin, which I have used for years.